By ALICE TAN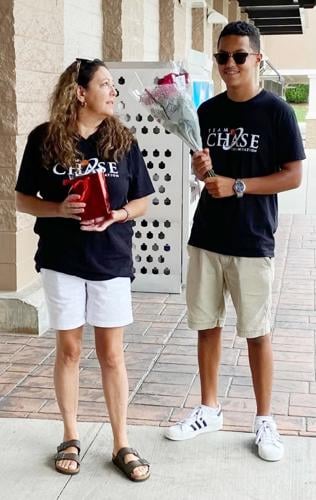 Chase Soares spent much of his 23 years of life passing basketballs. On the hardwood courts of Wareham Public Schools, Falmouth High School and later on South Maine Community College and Plymouth State, he dribbled, shot and rebounded.
Since his death in 2020 his mother, Brooke L. DeBarros, has organized a nonprofit organization, the Team Chase Foundation, to safeguard his legacy, with a mission to keep a metaphorical ball of kindness rolling around the world.
One of Team Chase's most recent endeavors, the "2022 Kindness Ball Tour," has taken Ms. DeBarros, her younger son, Brayden DeBarros, and her friend, Alicia Frye, on a journey through 12 East Coast states. Together they traveled to Atlanta, the city where Chase was born, completing random acts of kindness along the way.
They even met Robin Roberts from "Good Morning America" when they were in New York City.
In matching black Team Chase shirts, the trio picked up strangers' tabs, handed out gift cards for Starbucks and Dunkin' Donuts, and surprised others with flowers and Cape Cod goodie baskets. Ms. DeBarros even paid for someone's daycare bill, which is going to be divided up among a few single mothers.
Along the journey, they stopped by places significant to Chase's life—the hospital where he was delivered, Noah's Ark daycare center where he crawled and played, and his first two homes. Their orange van, painted with a photo of Chase—concentrating, holding a basketball—on one side and the phrase "Be Kind" on the other, kept his memories rolling on the streets of New England towns.
No mother should have gone through the pain she went through, Ms. DeBarros said. Her grief lives close to the surface, emerging, heaving up for air with simple promptings. Anecdotes about Chase—his Kobe Bryant poster in the room, his favorite number 47, and his numerous athletic accolades—flood out as her descriptions of him are tangled up in intensifiers and superlatives.
"Chase was an epitome of kindness, the most kind, and humble, humble kid. He didn't have one best friend; he had 100 best friends. He was very kind in all the stories that I've heard: everybody wrote me letters and texts and messages and emails about kind things that Chase has done for them," she said.
The two were always close. Ms. DeBarros's recollection of her son ranges from watching Chase dribble a basketball with his hand as a 2-year-old to her being the self-proclaimed "helicopter mom" the young undergrad talked to every day.
And she believes their closeness mixed with maternal instinct was what kept her on high alert the night Chase died.
"Nobody called me to tell me. I knew. I just knew," she said. "I never went to sleep that night."
On February 14, 2020, Ms. DeBarros checked into a hotel in South Carolina after a day of driving. She was on a road trip to take her father back to Florida, who came to town after Ms. DeBarros's mother-in-law had died. At home, Chase and his older brother, Scott, planned to meet up with others in Boston and celebrate a friend's birthday. Ms. DeBarros and Chase had talked a few times earlier during the day.
From a location tracking app on her phone, Mrs. DeBarros remembered watching their dot cross the bridge toward Cape Cod. She texted Chase again at 2:28 AM to check on their progress, since she is used to never going to sleep until her son gets home. Tiredly, she watched their dot make its way to the other side of the bridge, reaching Sandwich Road, until she lost connection at 3:24 AM—their dot had vanished.
Nervous, Ms. DeBarros went into the bathroom, not wanting to wake up her father. She wondered whether Chase's phone had died, hoping that when he got home 15 minutes later, he would plug it in and text her. When the text never arrived, she began searching for breaking news in Bourne, Sandwich and Falmouth.
"I came across this thing that said, 'We need sand on Sandwich Road.' And then I thought, is there ice there? Why do they need sand? I didn't put the two and two together yet," she said.
"And I just have this feeling in my stomach, that something was horribly wrong. So I then called the Falmouth Hospital myself, and asked if they have a Chase there, and that's how I found out."
She remembers how she called the police station in the span of a few hours. Her husband was away for work in Connecticut, her mother was not picking up the phone at home, and Ms. DeBarros ended up screaming at her friend, Lieutenant Michael Simoneau, "Can you go to the hospital and tell Chase I love him?"
Turns out Chase's Mercedes had veered off the road and struck the stone wall sign of Upper Cape Cod Regional Technical School, with the car engulfed in flames. He died as a result of his injuries while his brother, Scott, who was in the passenger seat, survived.
"It's been terrible. It's been a heartache. I wouldn't want anybody else to experience it because the hurt and pain that I feel inside of me, every second of every day, kills me every day," she said.
Team Chase Foundation was born out of Ms. DeBarros's grief and a deep desire to honor her son's legacy. She turned her son's name into an acronym, which is "Care, Help, And Share Everyday," a motto that captures Chase's essence, while Team stands for "Together Everyone Achieves More."
"The only thing I can say that has given me any type of peace, is helping other people. I don't know why that is, but that's the only thing that's helping me," Ms. DeBarros said.
"I've been in the mortgage business for 30 years, and I haven't been back since Chase passed," she said. "If it wasn't for my husband being able to support us, I wouldn't be able to do what I'm doing now with the foundation. It just does something to the inside of me to never let my son be forgotten. And to keep his memory going."
The nonprofit organization is "committed to enhancing the lives of others" through random acts of kindness. Team Chase hosts a series of charity basketball games and offers community outreach programs and two scholarships.
The "Chase Your Dreams and Soar High" scholarship honors a Falmouth High School graduating senior with "an all-consuming passion for basketball," as well as being altruistic, while the "Be Kind" scholarship awards a graduating senior who "consistently embodies and exemplifies courtesy, empathy, and generosity traits."
But Team Chase Foundation's biggest project right now is the Kindness Ball challenge, which involves plastic basketball discs passing around the world. The card, which has "The Chase Challenge" and instructions written on the back, was distributed during the official launch party.
The idea is simple: to do a random act of kindness and pass the card on. When the spirit moves, the cardholders are encouraged to "pick up the check for someone's meal, buy a drink for the person sitting next to you at the bar, or a coffee for the car behind you in the drive-through."
They can then scan the QR code to document what they did and leave the card to the recipient of that act, hoping the ball will move forward.
A virtual map on Team Chase's website has documented 73 acts of kindness between strangers, with locations ranging from Massachusetts, Florida and Oregon to South Korea.
The recent 2022 Kindness Tour had been Ms. DeBarros's family's way of passing the ball, spreading their support for people, places and organizations down the East Coast. The journey was emotional for her and Chase's younger brother, Brayden, who had always looked up to Chase. Ms. DeBarros was amazed by the number of people who offered them a place to stay or to cook their meals during the trip.
"It was helping me heal, making other people happy, and doing kind things. And I just hope that everybody just does kind things for one another," she said.
Her favorite moment was handing out a Starbucks gift card in Times Square to a young man named Jason, whose face lit up when he received the card. She watched him walk into Starbucks right after.
"This is why we do what we do, spreading kindness and making someone's day even with the smallest gesture," Ms. DeBarros said.