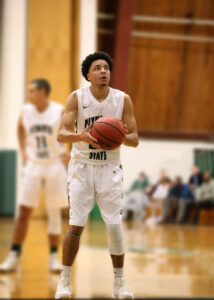 Chase Soares didn't just love basketball; he lived it. From the time when he was a toddler, he always had a basketball, either in hand or nearby. But basketball was much more than a sport to Chase, it was a passion, and like anything he possessed, he loved and lived to share it with others. At
Falmouth High School
, Chase made his mark on and off the court. He is remembered by his coaches and teachers not only for his acumen but also for his empathy. He broke records and earned accolades, but more importantly, he inspired young athletes as a pen pal to
Morse Pond School
students and by volunteering his time to the
Falmouth Recreation Department
as a youth coach. Chase believed life was like a team, and we all have a responsibility to perform to the best of our ability and share our skills to thrive and excel. His mentorship will be felt and remembered forever in Falmouth and beyond
Chase left this world on February 15, 2020, a few months before his 24th birthday. Still, his legacy of altruism and compassion will live on forever through the
Team CHASE Foundation
, a nonprofit organization founded by his family. Inspired by its namesake, Team CHASE is committed to enhancing the lives of others by igniting a renewed spirit among humanity through random acts of kindness, compassion, and giving.
Established in 2021 by the
Team CHASE Foundation
, the Chase Your Dreams and Soar High Scholarship will be awarded each year to a Falmouth High School graduating senior with an all-consuming passion for basketball, which is exhibited not only in athletics but in altruism. This student shares Chase's philosophy that we can all be the MVP in life when we Care, Help, and Share Every Day.
To be eligible, applicants must play basketball, be passionate about the sport and sets a good example on and off the court.