The Team CHASE Foundation will hold a launch party on Sunday, May 15, from noon to 3 PM. Team CHASE is a nonprofit organization founded by the family of Chase Soares, who was killed in an automobile accident in 2020.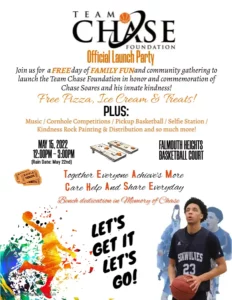 The son of Brooke and Norman DeBarros, Chase was a 2014 graduate of Falmouth High School. A varsity basketball player at FHS, his greatest passion was basketball. Chase was a role model both on and off the court to aspiring athletes, as a volunteer coach to Falmouth youth, and as a pen pal to Morse Pond School students. Chase embodied kindness, possessing an emotional intelligence beyond his years from a very young age. He was also an artist who expressed his highly evolved spiritual nature in his artwork.
Team CHASE aims to give back to the community both locally and beyond in multiple ways, such as scholarships and funding for youth athletic and educational initiatives for underserved communities.
The launch party will take place from noon to 3 PM on May 15, Chase's birthday, at Central Park ballfield in Falmouth Heights, one of Chase's favorite places. There will be pizza and ice cream, music, pickup basketball games, a corn hole competition, kindness rocks painting, kindness ball distribution, a selfie station, and raffle prizes. The event will conclude with a balloon release at 3 o'clock.
In case of rain, it will be held at the same time and location on May 22.
For more information, visit the Team CHASE Foundation Launch Party's Facebook page.
Originally published by Enterprise Falmouth on May 6, 2022